I made this dish a few weeks back. Before then, I'd only attempted this once and that previous time turned out a disaster. Fortunately, I've discovered kitchen twine since then and it makes the dish so much easier to cook. With all the right tools/ingredients in hand, this dish was a delicious success.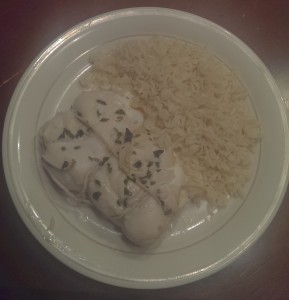 Chicken Ingredients:
(4) Chicken Breasts
Fresh Mozzarella
Roasted Red Pepper Pesto
Spinach
Basil (optional)
Kitchen Twine (to bundle chicken until cooking is finished)
Rice Ingredients:
2 cups Brown Rice
4 cups Water
2 Tbsp Butter
2 Tbsp Olive/Canola Oil
1 Tbsp Garlic
1 Tsp Cayenne (optional)
Chicken Instructions:
Preheat oven to 375.
Filet/Butterfly the chicken breasts (cut from the side most of the way through).
Place 1 Tbsp pesto, 4 to 8 leaves spinach, and two slices of mozzarella in each chicken breast.

Fold chicken breasts and bundle them closed with kitchen twine.

Place chicken breasts in oven safe pan and cook for 40 minutes, or until done.
(Optional) Garnish finished chicken with basil.
Rice Instructions:
Combine rice and water in medium/large pan, set on medium/high heat.
Allow rice to cook until fully steamed, stirring occasionally.
Drain any excess water from rice.
Add butter, oil, and garlic. Stir until well mixed.
(Optional) Add cayenne to rice, stir until mixed or sprinkle on top for presentation.
Enjoy!